In a previous blog I had discussed the changing demand patterns for Cruise Ferry traffic as we came out of Covid with bookings later than normal being experienced in certain sectors. However, based on feedback received, this is not necessarily consistent across the board.
Whilst there is a certain reluctance to book sailings early in certain segments, and perhaps from countries where Covid rules are still somewhat strict, the additional flexibility in ticket changes being permitted as a result of the pandemic seems to be encouraging other segments – , especially the leisure traffic, towards advanced planning again.
This would appear to be coming back to human nature again. Initially, the reluctance to commit to booking stemmed from a myriad of complicated, ever- changing travel restrictions, with each country being just different enough that you ran the risk of not being able to get home after an outward trip. Since the changes were being implemented at pretty short notice, travellers were leaving it later and later to book.
Operators then started implementing changed fare rules, permitting cancellation or re-booking at no charge, even if on a limited basis, for what were previously restricted fares.
Removal of the cancellation/change penalty, coupled with severe bouts of cabin fever, has encouraged future booking activity again. The fact that cruise ferry travel is between "neighbouring" countries, where restrictions are more likely to be similar (if any at all), rather than jetting off to a vastly different area, may also be a contributing factor.
The

Risi

ng

Demand

for Sai

ling 

 
The additional sailing demand may also be enhanced by some of the chaos surrounding air travel at present. As of March 2022 (IATA traffic reports), capacity was still around 45% of 2019 levels, and ongoing flight cancellations are causing severe disruption at many European airports.  
By now we have all seen the repeated reports of cancellations due to staff shortages or strikes, excessive security queues and airports full of either screaming or sleeping passengers.  
In this environment, likely to continue for at least this European summer, closer travel utilizsing ferries, may not only appear more attractive, but also contribute to next year's bookings whilst the incidents are fresh in passengers' minds. 
What does make a difference, and is perhaps a delicate balancing act for the Ferry operators, is the fares at which these bookings are sold. Typically these are this year's fares as they appear in the various booking systems, and which may comprise the fare, fuel levies or surcharges and other surcharges as a result of the pandemic.  
The Impact on Fares Due to Fuel Costs
Whilst advance sales put money in the coffers, which is critical after the last couple of years, it remains a form of futures trading given the volatility of the fuel prices at present.  
I am by no means an economist, but a simple glance at the cost of LNG, for example, over the course of this year shows how unpredictable it can be, and with fuel being a huge part of operating costs, what will those tickets be worth in the future?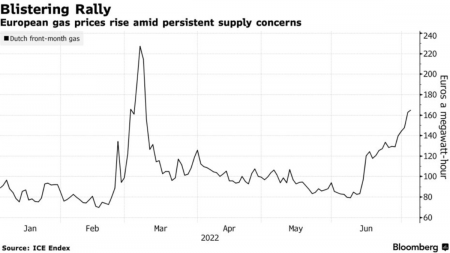 With such a range in fuel cost over the period to date, it almost appears that a crystal ball is necessary for next year. At the end of the day, the passenger is most likely considering the "What is my total ticket price for this sailing", not looking at breakdowns of surcharges, fuel levies and similar. And should another spike similar to the early March one happen, one cannot go back and ask for increased levies. 
So where the relaxation of fare conditions may have stimulated demand in recent times, it is perhaps a good point at which to play close attention to what those relaxations permitted. Is it: 
Unlimited changes – this may be overly generous, depending on the conditions

 

Changes permitted without additional fare differences – this is probably the most crucial to verify. A permitted change with a fare difference to whatever the new departure's current selling fare is likely a better option.

 

Change permitted with fare difference to be paid (or potentially refunded) – This is

possib

l

ly

e

the preferred option for many, but has it been implemented as such, and are the relevant call centre operators trained for this?

 
What is your approach to this? Love to hear from you.